– Lat/Long:
20.35° N
74.57° W
El Yunque, Cuba – Climbing, Hiking & Mountaineering information

El Yunque, Cuba mountain guide
Elevation:

575

m

Difficulty:

Best months to climb:

Convenient center:
El Yunque, Cuba Climbing Notes
Gerald Hebert from CANADA writes:

El Yunke lies approx. 10 - 15 kilometres from the main plaza in the town of Baracoa, Cuba. At this plaza is the first and oldest Spanish-built church in Cuba.
Talk to any legal taxi driver around the church and he will drive you to the "campismo" near the base of the mountain. Do not hire taxis particular; meaning cheap and illegal.
There, you may obtain the services of a qualified guide to lead the way. Ask for Pedro as he is really good and probably the best. He has other tours to do but has to climb this mountain at least 2 times a week when required. This guy is in top physical shape and a really nice guy; he now is another of my amigos in Baracoa! I owe my successful ascent to him.
I stonily suggest you ask your guide to get a "baston" or walking stick, a fresh one that has not dried out; that will not break and more than support your own weight. You will need one. Pedro went into the jungle just off the trail to find my "baston", a freshly cut branch from a hardwood tree which he cut off at just the perfect length for my body; just under the chin.
Heavy-threaded soles would have been much better than my Nike joggers, however, I did survive a couple of slips and falls; especially while descending the mist-dampened trail.
I climbed El Yunque on Saturday, March 27th, 2010. My guide Pedro, told me we had climbed 575 metres, so it is not a very high mountain. We set out from a camping site reserved for Cubans on holidays and walked about 2 or 3 kilometres to the Toa river at the mountain's base. This was the area enclosing the first micro-climate. There are 3 micro-climates involved, maybe 4.
It was a bright sunny day at around 09:00 hrs. when we started climbing and I was glad to be in the shade. This trail, during most of the climb, is in the shade and there are 3 levels of difficulty. The first part involves going through and around small farms owned by Cubans going about their daily chores raising animals, vegetables and fruit, including coffee and cocoa.
This being Saturday, the school students were relaxing by playing in the forest and running about generally.....all of them barefoot. I saw some in the Toa river spear-fishing and catching a lot of fish in the beautiful crystal-clear waters. Some were foraging for honey and finding some, not seeming to be bothered by the bees flying around. Cuba has the best honey in the world due to the diversity of flowers and fruit-bearing trees plus in the Baracoa area, the perfect mix of sunshine and rain. Around the mountain is a daily mist most of the afternoons, if not short downpours. Following a heavy downpour, there is no climbing for a couple of days as it gets too slippery.
Following the first part, we reached a place where the farmers had set up a rest area where I met other climbers, a couple from Wales, Great Britain. We were served freshly picked different varieties of oranges; pineapple, bananas, etc. I had a couple of sandwiches in my backpack. This couple are qualified hikers who try different trails around the globe. I met them the next day and they had really enjoyed climbing El Yunke.
Pedro and I pressed on into the second part and I immediately felt the steeper angle of the trail. I started to realize why my Cuban friend had told me to find myself a "baston" The jungle became a lot more humid and the sweat really started to pour, so I removed by shirt. They had stung poles from tree to tree, sort of like a handrail. The trail was a lot more rocky and one had to watch his step a lot more closely. Lots of different species of trees and birds. Sun still shining brightly through the treetops. We finally reached another resting area, two thirds of the way up to the top. We met local farmers cutting wood and leading their horses around. Too steep now for riding on saddle. From that point on, too steep for horses to even climb. This is as far as the Spanish conquistadors could go with their horses leaving them only with their war dogs, muskets and swords when chasing the Taino inhabitants of the area who had to escape to the top of the mountain to survive, from where they could thrown stones down at them. It was effective defence tactics for quite some time, reportedly. I will not delve further into this slaughter of humans by those gold-seekers. To know more, just google "Taino". This history was not taught to me in the Catholic schools that I attended; only that Christopher Columbus was a hero who had "discovered" a great new world. Some discovery; already inhabited by thousands of people.
The last third of the climb is very steep, involving a lot of stairs and ladders. Your calf muscles want to cramp up and Pedro later told me that a lot of climbers turn around at this point. I pressed on, however, Pedro offered to take my backpack. Thank you Pedro. He also carried it for the descent which I found more difficult than going up. I could hardly walk the next day due to stiff quadruples and calves. I gave him a good tip for this and he later bought me a iced beer at the campismo. The first and only time a Cuban bought me a beer. My amigo.
Finally reached the top. To prove it, I took photos of the Cuban flag and the bronze bust of the Cuban hero Antonio Maceo. It was cloudy and the view at the top was not very good, I would have loved exploring the flat area up there, a mesa. There is a species of palm tree that grows only on top of El Yunke and nowhere else in Cuba. I was told there are caves and the soil will support raising different crops, etc. Apparently the Taino people used it extensively during their brave defence of their homeland. There are hundreds of caves in the Baracoa area. An overnight there would have been great.
After descending, on the way back to the campismo, we jumped into the River Toa for a very refreshing swim. There were a lot of Cuban teenagers around who had set up music, barbecuing pork, cooking rice & other vegies with much assorted fruit and of course, some "Ron".
We then continued on to where my taxi was to pick me up and that is where Pedro bought me one cold beer. My amigo.
The next day I could hardly walk due to sore leg muscles. I was directed to a nearby house where they gave me a 45 minute leg massage after which I could easily walk along the Malecon, or sea wall. Rapid Cuban medicare.
I am going back to Baracoa next February. I still have a lot to see but I am not climbing El Yunque. Unless some tourist older than I am comes along and completes the climb, and proves it by taking a photo of the bronze bust of Maceo to prove it. I was 72 years old when I did it and am now 73.
Good climbing everyone.
2011-01-17
Click here to submit your own climbing note for El Yunque, Cuba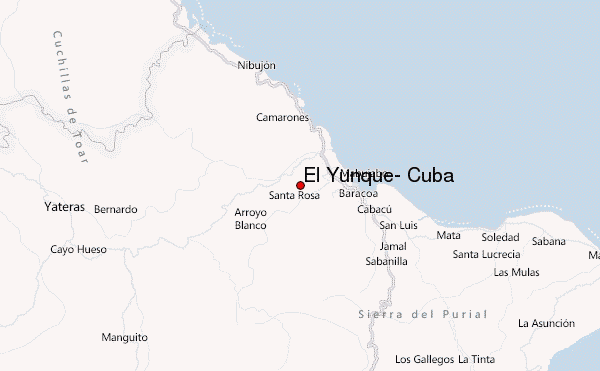 Select El Yunque, Cuba Location Map Detail:
Select a mountain summit from the menu




Select a Mountain Summit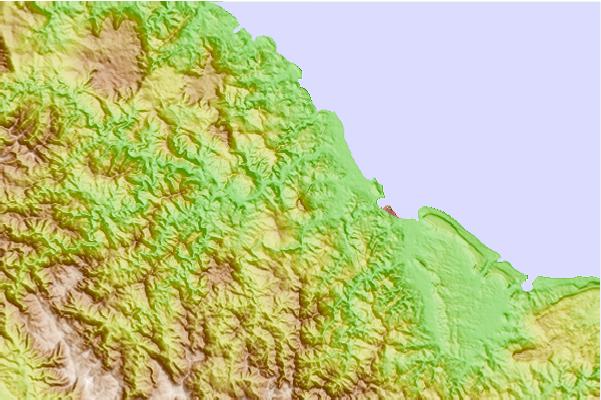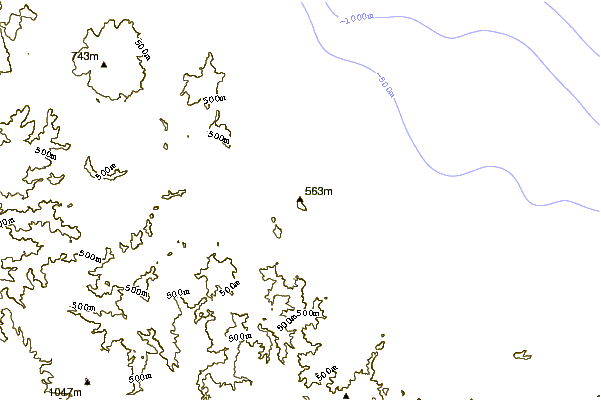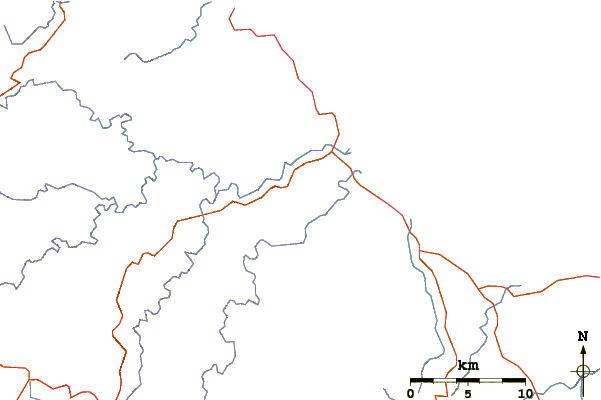 Use this relief map to navigate to mountain peaks in the area of El Yunque, Cuba.
10 other mountain peaks closest to El Yunque, Cuba: