– Lat/Long:
30.40° N
80.32° E
Suli Top – Climbing, Hiking & Mountaineering information
Suli Top mountain guide
Elevation:

6300

m

Difficulty:

Best months to climb:

Convenient center:
Suli Top Climbing Notes
avinash from INDIA writes:

FIRST ASCENT OF SULI TOP
RAMAKANT S. MAHADIK
from the himalayan journal 43 (1987)
IF IT WAS A STARRY NIGHT, moonlit and clear, its appeal to us seemed secondary, because the splendour around us was too good to let our eyes lift to the skies. Digesting the fantastic view in sight, I realised how nature had bartered this exhilarating feeling in return for the challenges it had spread in our paths. Standing on the summit of Suli Top along with my fellow team-mates Datta Phope, Satish Amberkar, Sanjay Rangnekar and porter Gopal Singh Gussain, my lips parted in a smile for the first time in three weeks as we hugged each other, yet eyes not deviating from that breath­taking panoramic view.
The sun had set about an hour ago and it was 7.30 p.m. on this freezing cold Thursday night. Still gazing at the vast icy expanse of conical ice-topped summits around us, I bowed to the goddess Nanda Devi looking so very solemn in the twilight. Inching my gaze from left to right the views showed the east face of Nanda Devi; there was Latu Dhura, Sakram, Bamchu, Deo Damla, Mang-raon, Changabang and Dunagiri. One would not miss Rishi Pahar, Hardeol, Tirsuli and Chiring We. To the left of Nanda Devi one could sight Trisul, Nanda Khat, Nanda Kot and Nandabhanar.
Our tale begins in December 1985 when our club, 'Cave Explorers, Bombay met and decided to send a team to Suli Top in the Kumaon Himalaya. This virgin peak situated in the Pithoragarh district stands 20,870 ft. (6300 m) high. The deciding factor in choosing this peak for the expedition was that it had repelled two previous expeditions (1979 and 1983). Being a disappointed mem­ber of the 1983 expedition, I decided to channelize my experience into leading my ever-enthusiastic colleagues to achieve their goal.
Owing this responsibility to my team, I geared myself up on all matters concerning Suli Top. The experience of the past two ex­peditions in this area, one led by Harish Kapadia (1979 Chiring We expedition)1 and thereafter by Vasant Limaye (1982 I.I.T. expedi­tion)2 helped us to prepare for the expedition.
Their photographs of the peak and its possible routes and condi­tions were a great asset in chalking out our plan. After discus­sions it seemed that the route via Lasar Yankti valley on the east of Suli Top would not be feasible. So we decided that the route through Kalabaland glacier and its icefalls was more possible, though challenging.
1. H.J. Vol. XXXV, p. 221 and Vol. 36, p. 72.
2. H.J, Vol. 39, p. 177.—Ed.
Photos 3 to 7 and Cover Photo
We moved from Mathura to Bareilly, and thence to Kathgodam, with 26 May seeing us at Almora, welcoming us with the first rain. From there, we went by bus to Munsiari (2200 m). Here we made our rendezvous with Khadak Singh and Gopal Singh (HAPs),
On the 28 May we met a disappointed team from Pune, who cautioned us on bad weather conditions prevailing in the region, so we stayed put at Munsiari till the weather turned satisfactory.
2 June; it was a long train of porters of 20 LAP and 4 HAPs which helped us to Lilam, where after complying with all the formalities at the police checkpost, we reached the residence of Khadak Singh at Paton at 7 p.m. Camping at Ralam gad we left for Damphu via Sapo cave, arriving there on the 4th, amidst pleasant and clear weather. On arriving at Ralam, it was un­happily detected that some of the items like sugar, cake, tea pow­der, rice and biscuits were missing. The LAP'S seemed the only obvious suspects.
Due to heavy rain fall, EC was prematurely established on 6 June, and 18 LAPs sent back. Passing the snout of the Ralam gad with Sankalpa glacier on the right and Kalabaland glacier to the left, we gained height with every step and then established ABC (14,100 ft) in a snowfield of Kalabaland glacier.
On 10 June, we split into two groups as per our earlier plan. One group to open the route to CI and the other to ferry the load. The first group consisted of Satish, Gopal, Khadak Singh and my­self; Datta, Sanjay, Budhi Singh and Bachan Singh, Pushkar Singh and Ram Singh made up the other. On the same day CI was set up at 15,100 ft, 6 km away from ABC.
With two more porters sent back on the 11th, we wound up ABC and all reached CI on the 12th. At the same time the first group was trying to open the way to C2, but could not find it easy as it was through an icefall. It took us 3 days of challenging and strenous efforts to overcome all obstacles.
With the help of snow-bridges and ropes for convenience and safety, we set up C3 on the 18th. It was set up near a square ice-wall surrounded by threatening crevasses. Around us, was the dreadful path of the numerous snow-avalanches, and the sounds heard were deafening. But all in all the going was good so far.
The route to C4 was through an icefall of 1500 ft and quite tricky. Having to take sharp turns and bends in between the ice-crevasses, we had to pass through gaps in the ice-walls, which were within hand-shaking distance of each other.
'The only way out of a difficult situation was through if, we thought, as we encountered the quite unimaginable situation cross­ing over all these obstacles. Suddenly we came upon a big ice-wall 90 ft high at a steep gradient of about 80°. There would be no better situation to use the front-pointing technique, and we inched our way higher and higher. The two tents of C4 were established at 19,200 ft. Myself and Gopal stayed back and the rest left for C3, to return the next day.
It was now 24 June, exhausted as we were, we felt that we had already been through the worst, and even before this feeling could start comforting us, drastic things began to happen. The alarming changes in atmospheric conditions jolted us so suddenly that we found ourselves in our tents crouching together, three in each. The line tent fabric seemed almost on the point of yielding to the great winds that were blowing. The rest of the members joined us on the 24th with the white-out swirling all around. The visibility was almost zero. There was food provision enough for only six days and the summit still loomed far above us. Minutes ticked into hours and hours into days. Totally 8 days were spent cramped in a tent singing, joking, keeping our spirits high, but famine situa­tion bothered us. On the 26th, with a little let up in the condi­tions outside, two porters were sent back to fetch food from below but they could not return.
With the weather clearing on the morning of 1 July we decided to move on and climbed 800 ft by 9.30 a.m., but the windy condi­tions drove us back to our tents. One more porter was sent down for provision. Inexperience showed on Sanjay who had braved the white-out without his goggles; he went snow-blind. He would never remove his goggles again, he vowed. He recovered, but not fully. The weather deteriorated further. 'We need not wait for the porters', I said to the others and the 2nd night saw us falling asleep with a prayer on our lips for a fair deal in our endeavour. The 3rd morning at 3 a.m. we saw the moon. After 8 days a ray of hope sparkled through the opening in our tents. We set out for a whole­hearted summit bid. We traced our steps up the same path that we abandoned the previous day, when we were driven back. The summit was still 670 ft away; 'so close yet so far'. The weather grew better and now we could concentrate on the next position of the steep climb ahead. One by one we traversed to the right, then across a very hard icy roof-like slope. Use of crampons alone on the hard ice was not very secure, so we cut steps in the ice. We reached the base of the last hump with the summit only about 180 ft away.
The shape of the remaining hump was like a reverse 'U' having a 90° wall. The ice-wall was too hard for front-pointing technique, and even the step cutting was not possible. After a vigorous search we found a crack in the wall, up which we climbed for 41\2 hrs to emerge near the summit. Within minutes, a few more steps and 'Wow!' we were there.
We lost control of our emotions. Everyone seemed to want to say something, and no one was listening. Shivering in the chilly blowing winds, our cameras and teeth flashed in unison. We left behind our ice-axe on the top and a 70 ft blue rope, which was fixed in the crack along with three tubular ice-pitons and three karabiners.
We reached C4 at 11.30 p.m. and relaxed very happily. Winding up C4 on the 4th afternoon, we came down directly to C2 which was wound up on 5 July; after which we set out for Ralam and then on to Paton and finally reaching Munsiari.
Looking back, it all seemed so easy now but one begins to realise that every great action is extreme when undertaken. Only after it has been accomplished does it seem of more common stuff.
2014-03-18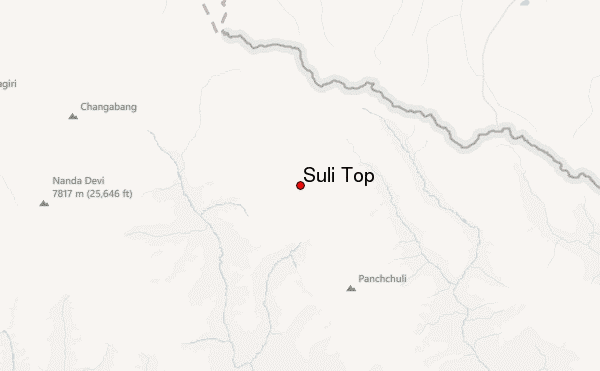 Select Suli Top Location Map Detail:
Select a mountain summit from the menu




Select a Mountain Summit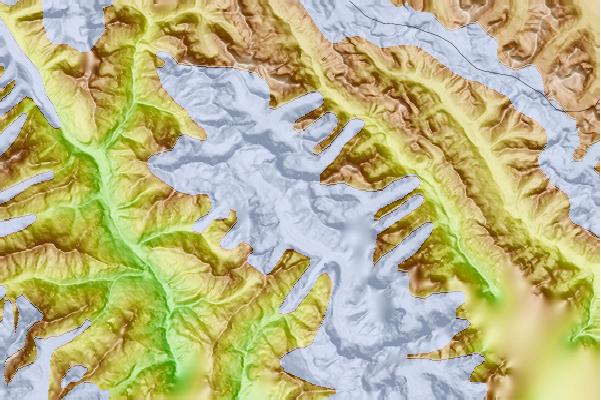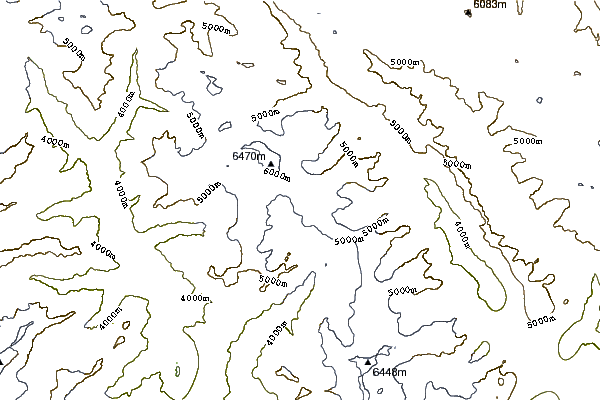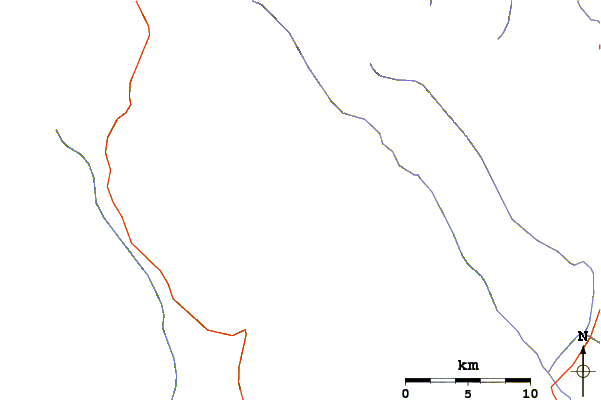 Use this relief map to navigate to mountain peaks in the area of Suli Top.
10 other mountain peaks closest to Suli Top: